MEHMET ALİ BİRAND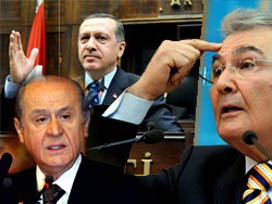 The prime minister's approach toward the opposition regarding the Kurdish initiative is slowly shaping. He moves away from the MHP at a fast pace. He protects the CHP. He winks at the DTP.
We don't know how long this attitude will last. For, the prime minister's behavior is moody and his reactions incalculable. One day he gives a helping hand and the other day he slams one down. For this reason, I will try to reflect today's appearance the way I see it.
If you were to ask why the attitude of the administration party is so important I'd say because Erdoğan's attitude in this period carries signs of a possible coalition after general elections. As many other observers do, I too believe that that a coalition will emerge after elections in 2011. I may be wrong of course, but I suppose that especially besides unemployment and the economic situation the Kurdish initiative will erode AKP votes to some extent. After this introduction let's get down to Erdoğan's relations with the opposition parties.
Bridges with the MHP are breaking
Erdoğan has no expectations from Bahçeli regarding the Kurdish Initiative. MHP's reaction and opposition against this venture would seem natural. This party's approach based on votes potential, sensitivity to "impartibility of this country" and brisk reaction to the PKK was only natural.
What Erdoğan did not expect was MHP leader Bahçali's increasingly brisk statements and an attitude aiming at Erdoğan personally, suggesting treason. Bahçeli tries to gather those opposing the Kurdish Initiative, even those who are a little suspicious under his wings, not sharing the vote potential with anyone. To tell the truth, he is quite successful. He gains a bonus with every beat he exercises on Erdoğan.
As Erdoğan notices this attitude he becomes brisk. His words sharpened and he started using a language that forces MHP in a corner. Mutual tempo increases. If this pace continues, it seems the MHP will not take place on the possible coalition list after general elections in 2011.
He tries to protect CHP
Erdoğan does not show the same brisk reaction he shows MHP to CHP. He can't help but criticize Deniz Baykal everywhere anytime but his words in respect to CHP regarding the Kurdish Initiative are different. His tone and words are chosen carefully.
Despite total cease of his dialogue with MHP, he does not let go of Baykal. The reason for this attitude is that he believes that the CHP in the end "will not" or "cannot" oppose the Kurdish Initiative as brisk or crushing as the MHP. In fact, the CHP is indifferent.
On one hand it opposes the AKP, tries to wear it down no matter what, and on the other hand it does not turn its back on the Kurdish Initiative completely. For, CHP's formation and basic politics are more prone to understand the Kurdish issue than the MHP is. It is a party that has written first reports in this matter and made suggestions that went further than ventures undertaken by the AKP.
CHP's opposition, contraire to MHP, deals with content and management. It does not object basic data. And that is why Erdoğan does not let go of the CHP.
He winks at DTP
The prime minister's view of the DTP has been changing recently. In the beginning Erdoğan took on an attitude of "as long as they don't reject the PKK I'll not even shake hands with them" which slowly started to change.
He seems to have taken on an attitude which suggests an advising tone, instead of criticism. Then he lifted the meeting boycott. If we look at leaking news, he has conducted a warm and extremely positive meeting with DTP leader Ahmet Türk.
In the Kurdish Initiative Erdoğan's sole legal addressee accepted by the public will be the DTP. And the prime minister asking for such a period in relations is just natural. But basic relations on the Kurdish front can't be eliminated. PKK's insistence is at the top of the list.
He won't take PKK as an addressee
The PKK does not want a dialogue between the State of the Turkish Republic and the DTP that designates Öcalan's and its own future. And because of that it pushes the DTP. The public is notified by DTP spokesmen that the PKK and Öcalan need to be the addressees.
Militants carrying posters with the PKK flag and Öcalan during the latest assembly are typical examples of empathy within the DTP. Taking the PKK or Öcalan as an addressee for the initiative is, in view of today's conditions, impossible. Erdoğan knows that this would mean suicide.
Besides, neither the PKK nor Öcalan are not in a position of negotiating. They've experienced erosion. And beside, they are not "scary" anymore. No matter how much assassinations they conduct, the Turkish public will not be impressed anymore. Internal and external dynamics bring them down to a margin. And contraire to that the DTP steps forward. Hope the DTP exhibits a responsible and independent attitude in view of this reality.