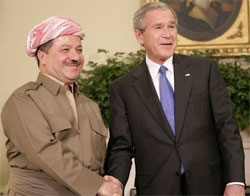 Iraqi Kurds angered by American support to Turkey's limited cross border incrusions into their territory to hit PKK hideouts are saying their forces will defend civilians if they were caught up in any fighting between Turkish troops and Kurdish militants in the northern Iraq.
On Tuesday, Turkey sent special troops across the border into the rugged mountains of northern Iraq, disclosing it inflicted heavy losses on the PKK militants in the small-scale incursion and in air strikes two days earlier.
Turkish authorities said they detected a group of PKK militants trying to infiltrate into Turkish territory from northernn Iraq late Monday night and responded immediately by engaging in hot pursuit.
In a sign of increasing tension, the U.N. High Commissioner for Refugees reported that more than 1,800 people fled their homes in parts of Iraq's semiautonomous Kurdistan last weekend.
Iraqi officials have complained that Turkey's actions are a violation of Iraqi sovereignty, although they also have said they recognize the threat posed by the PKK.
"We are not part of the military dispute between Turkey and the PKK," said Jabar Yawar, a spokesman for Kurdistan's Peshmerga militia.
Yawar said that "if there are any violations by Turkish troops against any secure civilian villages, the Peshmerga will do their job to defend their citizens."
Tuesday's raid was the first confirmed Turkish ground operation targeting rebel bases inside Iraq since the U.S. invasion in 2003, though about 1,200 Turkish military monitors have operated in northern Iraq since 1996 with permission from local authorities.
However, the incursion was not a large-scale push that some feared could destabilize a relatively calm part of Iraq — and which is adjacent to the nation's main northern oil fields around Kirkuk.
The militants have been waging a terrorist campaign in southeastern Turkey for more than two decades and use strongholds in northern Iraq for cross-border attacks. Turkey has said it can no longer tolerate the attacks on its troops, and in October Turkey's Parliament authorized the country's military to strike back at the PKK inside Iraq.
In November, the Turkish military reportedly massed 100,000 troops along the border, and there were fears that a major Turkish offensive could cause civilian casualties and lead to conflict with the Peshmerga.
The Turkish military issued a statement saying ground forces based close to the border crossed into northern Iraq after spotting a group of militants trying to infiltrate into Turkey overnight.
"A heavy blow was inflicted on the group with the land forces stationed in the area," it said.
The incursion came after Turkey launched airstrikes by as many as 50 Turkish fighter jets Sunday against the PKK positions in northern Iraq.
The military said it was not able to give the number of PKK militants who may have been killed during the airstrikes, but maintained that "many facilities harboring the PKK were hit."
U.S. military commanders in Iraq didn't know Turkey was sending warplanes to bomb in northern Iraq on Sunday until the planes had already crossed the border, said American defense and diplomatic officials, who were angered about being left in the dark. However, experts said the fact that the U.S. did nothing to stop the three hour long aier operation showed some kind of tacit U.S. approval.
Americans have been providing Turkey with intelligence to go after the PKK in northern Iraq, and a "coordination center" has been set up in Ankara so Turks, Iraqis and Americans can share information, U.S. officials in Washington have said.
The latest ground incursion is small compared with Turkish offensives across the border during the 1990s, when Ankara launched a series of major air and ground attacks against rebel bases. In the most extensive campaign — opened in March 1995 — more than 35,000 Turkish troops pushed up to 35 miles into Iraqi territory.
Meanwhile, France said on Wednesday that Turkey and Iraq must continue a dialogue they have engaged on the problem of the PKK.
France noted that the European Union Presidency "has expressed worry about the military action recently undertaken by Turkey in Iraqi territory and has called it to show restraint," the French Foreign Minister indicated Wednesday.
"We understand the legitimate concern of the Turkish authorities in protecting their citizens," Foreign Ministry spokeswoman Pascale Andréani said in a press briefing Wednesday.
"We are equally attached to the territorial integrity and sovereignty of Iraq. We consider that it is primordial that the dialogue engaged between the Turkish and Iraqi authorities is pursued," the French official said. She further stated that France "sides with Turkey in its fight against the PKK", which Andréani point out is "an organization that has been placed on the European list of terrorist entities."