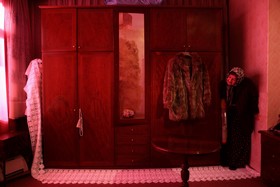 "But, you may say, we asked you to speak about women and fiction—what, has that got to do with a room of one's own ? I will try to explain," is how Virginia Woolf starts her long essay titled "A Room of One's own."
Woolf suggests that a woman needs a room of her own to write, and she addresses both historical and contemporary questions regarding women's situation in the art scene and their social status.
According to Woolf, there are many deficiencies in perceiving women's situation in the social scene and art.
Nilbar Güreş, a young Turkish contemporary artist, also questions the situation of women in the society, just like Woolf.
While questioning identity and gender issues, Güreş creates a language via her photographs and tell us a story of women who live in different districts and cities of Turkey.
Women, identity, meaning, existence, a new life, creating, independence, gothic, virginity, defloration, language, novelty ... These may be some of the words that come to mind when viewing Güreş's works.
Güreş works with women from her own family and questions the gender and identity problems in Turkey.
The exhibition features her "Çırçır" series from 2010, which was exhibited at the 6th Berlin Biennial. The series takes place in an Istanbul neighborhood that was confiscated by the state and is now undergoing problematic urban transformation. The images are drawn from the world around us, which we are familiar with in everyday life.
Photographs of Güreş depict a story of women who live in a neighborhood. Güreş shows us how they live and how they "exist" or how they are failing to exist in the modern day. Güreş tries to liberate women in her photographs, while she also criticizes their daily lives in their houses. Sometimes, we see the women in Güreş's photographs like "ghosts." Güreş suggests that they become ghosts as they live in their houses, as women appear with a white sheet as they sit on the couches.
Women in the photographs struggle to create their liberated space, as they are fighting to become a solid environment. Güreş shows audiences what women are doing "inside" their own world, while the "outside" world is going on with its own rules.
Tools and their usage in the photographs
The tools for Güreş create important details in her photographs. Women in the kitchen or in the saloons are holding tools such as forks, brushes, knives, lamps and sometimes water guns.
Dresses are another part of tools in Güreş's photographs. The artist depicts how these dresses are meaningless tools in the daily lives of women. The video performance titled "Undressing" shows us how nonsensical it is to dress or cover yourself with dresses or scarves. What women wear symbolizes "nothing."
"Undressing" is a response to the image of women produced by the "Islamophobic" gaze of Europe. In this work Güreş undresses the headscarves that she put on her head. It is impossible to see the face of Güreş as she takes off the scarves. With this attempt, Güreş questions the identity of women via dresses. This work also emerged as a response to the growing Islamophobia in the West, especially in the post Sept. 11 era, and the image of Muslim women consumed by the radical right political parties in Europe, leaving this image devoid of identity.

Published on Yeryüz by Hatice Utkan